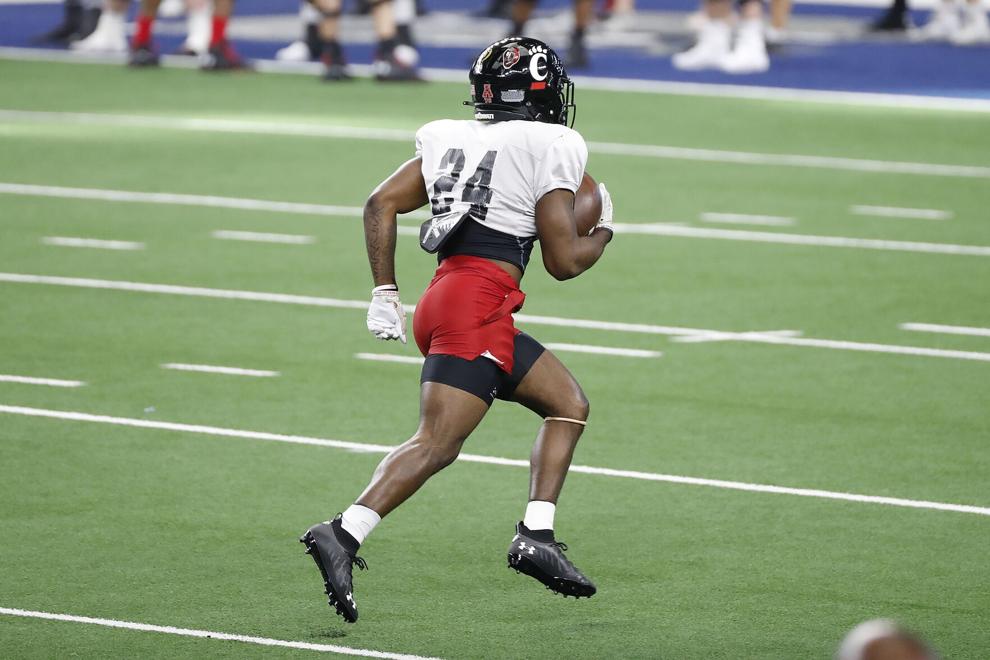 For the first time since practicing in Dallas, Cincinnati and Alabama players and coaches addressed the media, touching on the shared goals of blocking out the noise while finding a way to take care of business while getting the job done. 
"We've heard a lot about this David versus Goliath talk. The fact of the matter everybody puts their pants on the same way," Dylan O'Quinn, Cincinnati's offensive lineman said.
O'Quinn is referring to the frequent comparison that is drawn between Cincinnati (David) and Alabama (Goliath) ahead of their meeting in the Goodyear Cotton Bowl. However, that comparison is not being upheld by either team, especially for Will Anderson Jr., Alabama's linebacker who says his Crimson Tide are the disrespected underdogs. 
Cincinnati has spoken from both viewpoints, pointing out both their undefeated season as well as hailing from a non-power five conference. 
In his opening statement, Cincinnati's offensive coordinator, Mike Denbrock, echoed the words of Luke Fickell, referring to his NYE competition as the "champs."
"Your opportunities will come provided you're where you're supposed to be, doing what you're supposed to be doing, when you're supposed to be doing it," Denbrock said on the diversified skillset that has developed in his receiver room. 
Denbrock emphasized the importance he is instilling in his offensive guys of not acting out of character to throw away something to COVID that has taken a long time to build. 
According to Denbrock, quarterback Desmond Ridder is in his "comfort zone."
To Ridder, he has just trusted the process and journey that Fickell has guided him on. Upon thanking everyone for having him, Ridder said he is looking to seal off his five-year tenure as a Bearcat with "one of the best experiences there is."
"Their quarterback is outstanding," Anderson Jr. said of Ridder. 
Nearly everyone who sat behind the microphone Monday was asked to share their thoughts on Cincinnati's running back, Jerome Ford, transferring to Cincinnati from Alabama. 
While becoming known for his gashing break-away touchdowns, Ford has simultaneously become known for being a man of few words. However, Ford delivered a stern message Monday. 
"I would kind of appreciate it if people stop calling me "the" Alabama transfer. I'm a Cincinnati Bearcat," Ford said. 
Although, Ridder said having Ford has allowed Cincinnati to know how Alabama's culture is and how they will come mentally prepared. 
Despite the ties with Ford, Anderson Jr. says his defense is ready for the "swiftness" No. 24 runs with. 
Ford isn't the only threat Alabama's defense has to worry about, as the Bearcat's perimeter has dominated the airwaves of the AAC.  
Cincinnati's leading receiver, Alec Pierce, says running and separation won't be enough to beat Alabama's cornerbacks, it's going to come down to who can make more plays.
Scheming to out-play Pierce is Alabama's defensive coordinator, Pete Golding, who agrees with Fickell that when the ball is thrown near Pierce it isn't 50/50, its more 70/30, Pierce's favor. 
"We got out hands full for sure," Golding said after calling out a strength in nearly every Cincinnati offensive position. 
While all of Cincinnati's players praised their experience in the nosebleeds of Sunday night's Cowboy's game, Ford saw more than a football game, he saw his future. 
"I definitely, if I'm blessed enough, I could see myself playing on a field like this in the future," Ford said after the Cowboy's game. 
Ford isn't alone, a slew of future NFL stars are in Dallas between the two Cotton Bowl contenders who are just days away from lining up against each other for just the sixth time in respective program's history.